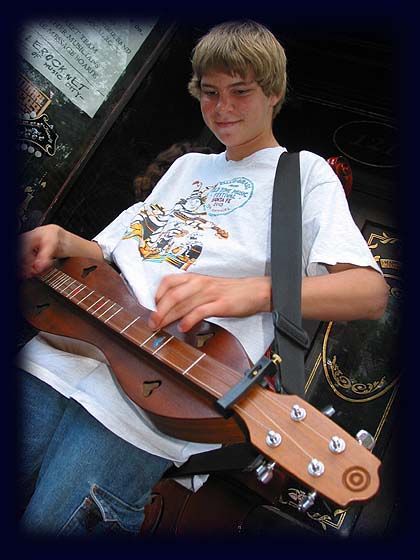 Ethan Roe
Ethan is the youngest member of the band...
Ethan Roe plays the mountain dulcimer, a unique Appalachian instrument. They believe this instrument might have originated in Scotland. Ethan started playing when he was 9, but it has been a long road to be able to play on stage. It's really hard to play when you can't keep time! It wasn't until the rest of the family had given up on him and just stuck him in the back of the band that he started keeping the beat....the wrong beat! Ethan then had to find the "up beat". This was harder since it was opposite from what he had been doing. Needless to say, his rhythm today is great and he adds a lot to the band.
He is sponsored by McSpadden Dulcimers!

| | |
| --- | --- |
| 2007: | |
| | 3'rd place Arizona State Miscellaneous Instruments |
| 2005: | |
| | 1'st, Misc. Instruments, Yadkinville Fiddlers Convention |
| | 1'st, Misc. Instruments, Happy Jack, WY |
| 2004: | |
| | 3'rd, Mountain Dulcimer, Missouri Valley, IA |
| | 2'nd Youth Talent, Mt. Juliet, Nashville TN |
| 2003: | |
| | 3'rd Misc. Instruments, Santa Fe, NM |